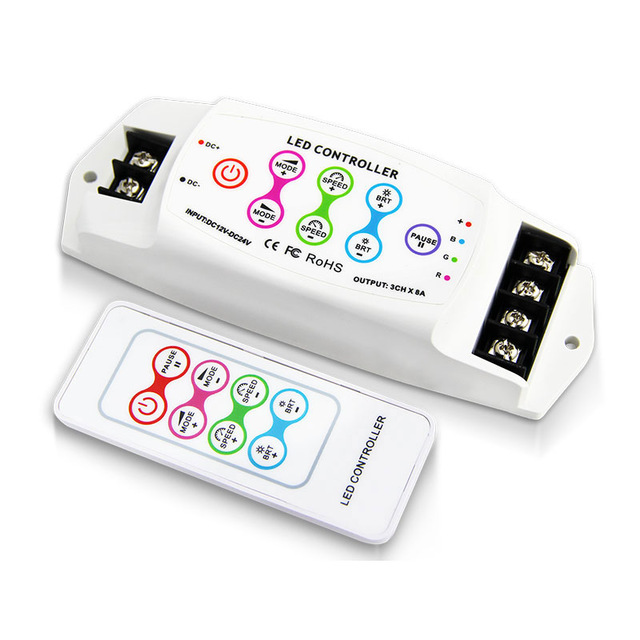 8A Wireless RF Remote Touch-key Controller for RGB LED Strip Lights
---
Features:
Automatically adapt to LED light which works from DC12V-24V.

4096 levels of grey scale per RGB even & smooth for color gradual changes, without any flashes.

36 fantastic modes such as color smooth, color skipping, horse race, strobe, etc.

Can choose a changing speed and brightness in a certain mode independently.

Can stop at static single color, speed & brightness adjustable at pause status.

Working with power repeater to expand power output unlimitedly.

Power loss memory function.
Product parameter:
 Input Voltage: DC12V-DC24V

 Max Current Load: 8A/CH×3

 Max Output Power: 290W(12V)/580W(24V)

 Scale Levels: 4096 LEVEL /CH×3

 Working Temperature: -30℃-55℃

 Product Dimension: L165xW56xH36(mm)

 Package Dimension: L180×W65×H53(mm)

 Weight (G.W): 210g

 Remote Control Distance: 30m with block; 60m without block             

 Control Type: Common anode    
Conjunction Diagram:
1)Connected to LED strip as an example
2) Connect to power repeater (the controller and the amplifier can share the same power supply)
Operating instructions:
1) On the controller, there are 8 function keys:
The remote control ID learning guide: Press ON/OFF button on the controller, and press any of the button on the
remote, when the light flashes, the ID is set.
The eight keys on the remote controller are correspond to the keys on the RGB controller
Safety Warnings:
Please don't install this controller in lightening, intense magnetic and high-voltage fields.

To reduce the risk of component damage and fire caused by short circuit, make sure correct connection.

Always be sure to mount this unit in an area that will allow proper ventilation to ensure a fitting temperature.

Check if the voltage and power adapter suit the controller.

Don't connect cables with power on; make sure a correct connection and no short circuit checked with instrument before power on.

Please don't open controller cover and operate if problems occur. The manual is only suitable for this model; any update is subject to change without prior notice.